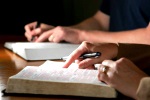 The current ladies' Bible study is studying "The Practice of Godliness" by Jerry Bridges. The study is targeted for progressive sanctification toward Holiness.
The study provides an opportunity to challenge ourselves with the Word of God and speak more openly about how it has applied to our lives.
The books are available to pick up at the church. (No charge. Freewill offering accepted.) When the study is in session.
Who Can Come?
All women 18 years of age and older are welcome.